I feel like there's such a big push in the vegan community to portray veganism as not involving any personal sacrifice. Maybe that's true for a lot of people, and personally I don't miss dairy or meat in the slightest at this point. I do, however, routinely have to consciously say no to *things* that I want. To be fair, it's not really much of a sacrifice to not be able to buy every pair of shoes I have my eye on, but it does mean actively passing on things I would otherwise really want. So I just wanted to address my purchasing ethics on the blog.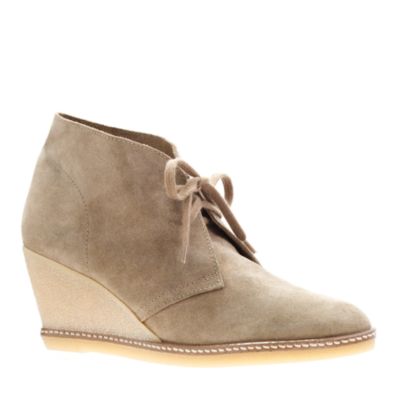 I want these!
But they are leather, so I'm passing on them.
I won't buy anything that's
leather,
fur,
wool,
down
, or
silk
. If you're curious about why each of those specific items are unfortunate from an animal welfare perspective, check out the links. Silk I think mainly bothers me due to the sheer number of silkworms killed for each unit of silk. Anyway, it never crosses my mind to buy anything made of fur, but the use of leather for shoes is so widespread that there's inevitably going to be some shoe I see in a magazine or a blog that I just love but that isn't available in a non-leather version. Same goes for wool-blend coats and sweaters.
So yes, being vegan does mean I make sartorial sacrifices. Thankfully, the options have gotten a lot better. The
Vaute Couture
coats are nice and the
shoe and bag options
are getting pretty good. So again, not a significant sacrifice by any means, but I've chosen not to buy probably hundreds of items at this point because they were made of animal products. Cosmetics too. I make a point to avoid
lanolin
for example.
Is it worth it? I think it definitely is. Sure, I'll miss out on some material things I want, but I would feel really bad about my choices if I knew I contributed to animal suffering just to indulge my sense of style. I think it ultimately boils down to this: if you had to choose between passing on a pair of shoes or killing a cow, which would you choose? Also, consider the price of the shoes relative to the life that was taken. If anything, I would pay someone $100
not
to a kill an animal!
Still, it's not a black and white issue. Do you buy from companies that also sell leather items? Companies that sell fur? Companies that are owned by larger companies that test on animals? What about if they don't disclose all of the ingredients in their lipstick? What about vintage items?
Cute, and also non-leather!
You have to draw the line somewhere, and while there's a lot of finger wagging online as to what's appropriate and what isn't, I think it's ultimately a personal decision where you draw that line. It's impossible to live an entirely cruelty free life and still live in society at this point (
which doesn't mean you give up on the idea! It just means you have to decide what items you personally feel comfortable with!
). Plus, I think once you move beyond narrow definitions of labels I think there are a lot of diverging views about the use of bugs in cosmetics and food (fyi carmine comes from beetles).
Anyway, this is why I don't buy clothes or shoes that are made of animal products. I'm not quite as strict when it comes to cosmetics (although animal testing is clearly out). I also admit that I don't put a lot of thought into sweatshop related issues (although if anyone can recommend mainstream stores that have good labor practices then I'm all ears!)
I really encourage people to think about what they value and to decide if their purchasing habits are in line with those values. If not, what can you change to make a difference? It probably does involve giving up something small, but my personal experience (five years as a vegan and counting) has been that what you gain far offsets passing on the occasional pair of shoes.